Concordia Experience
Weeks of Welcome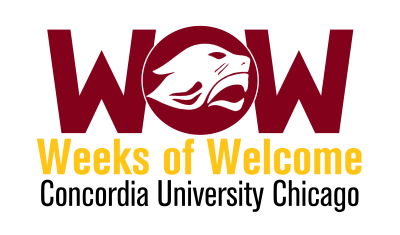 Weeks of Welcome
Weeks of Welcome (WOW) is a continuing orientation program for all new Concordia-Chicago students and serves as a welcome back to campus for returning students. Led by student volunteers, new and returning students have the opportunity to meet new friends, learn about campus resources, have fun, and participate in service opportunities. Some events during the week may be subject to change.
FALL 2018 EVENTS
Most students check in for the fall semester on Thursday, August 23*. We have activities planned for you and your family in the afternoon. We look forward to seeing you!
Thursday, August 23

9 a.m. - 1 p.m.

New Residential Student Check In

11 a.m. - 1 p.m.

New Commuter Student Check In

2:30 p.m. – 3:30 p.m.

Music and You (McCormick Recital Hall)

4 p.m.

Service of Welcome and Induction (New Students: Check-in at the Art Gallery beginning at 3:30pm to have your name read.)

5:30 p.m.

New Student BBQ

7 p.m.

Mandatory Floor Meetings for Residents

8 p.m. (dusk)

Movie in the Triangle featuring AVENGERS: Infinity War

Friday, August 24 - New students: Wear your new CUC shirts to the Cougar Kick-Off!

9 a.m. – 6:00 p.m.

Cougar Kick Off (mandatory for all new students) begins in the Chapel of Our Lord at 9 a.m.

Sessions include:

Welcome from the Dean of Students

Safety on Campus: Public Safety, Village Emergency Response, and Title IX

Serving and Leading on Campus: Academic Integrity, Financial Literacy, Student Involvement

College Meetings: Meet faculty in your major college

Class of 2022 Photo

First Freshman Seminar Class Meeting (freshmen only)

Your Transfer Experience (transfers only)

7 p.m.

Comedian Trent James

Saturday, August 25

7:30 a.m. – 12:30 p.m.

Service Saturday! Don't forget to wear your #ServeAndLead Shirt!

2:30 p.m. – 5:30 p.m.

BLOCK PARTY! Sponsored by the Office of Student Leadership & Involvement

6:30 p.m.

Cougar Files! Form a team to solve the puzzles and help Charlie escape!

Sunday, August 26

9 a.m. – 3 p.m.

NCAA Athletes: Opening Devotional and Student-Athlete Orientation

4:00 p.m.

University Opening Service and Celebration

5:30 p.m.

Dinner in the Triangle featuring Dueling Pianos!

8:30 p.m.

Returner/Transfer floor meetings (various residence hall floors)

10 p.m.

Join us for a Service of Prayer and Praise at the Triangle. Rain location is the Chapel of Our Lord

Monday, August 27

First Day of classes
*For other check-in dates, review the full check-in schedule.